Growing with our students – Our brand logo through the years
Envisioning a New School
The French Academy of Bergen County was established in February 2007 with its first open-house on July, 14th 2007.
September 2007 – The French American Academy opens in a building at St. Mary's, in Dumont, NJ, under the name, The French Academy of Bergen County (FABC). There are 25 children attending the after school program with one day of immersion for younger attendees.
September 2008 – The Academy expands, offering Preschool and Kindergarten classes. This marks the beginning of the Full Time School. The plan is to open an additional grade every year in order to grow with the children.
April 2009 – The French American Academy receives its accreditation from the Middle States Association on Elementary schools. For more information, visit http://www.msa-cess.org. This was a critical accomplishment, the result of many months of hard work by the teaching team, parents and board members. The Association stated: "The Middle States Association team commends FAA for its enormous accomplishments in such little time and with such limited resources. A dedicated, well-trained faculty and strong leadership seem to be at the heart of the school's rapid success."
June 2009 – 54 children are registered in both after school programs and full time school.
September 2009 – The French American Academy opens its first, first grade class.
June 2010 – The French American Academy continues to grow. After an exhaustive search for a new facility, and other sizable challenges, an ideal school building becomes available at the last minute. It is a perfect fit. New Milford is our new home on July 1st. The second grade opens in September.
September 2010 – A second campus opens in Morris Plains, NJ to answer the needs of a significant Francophile community. The French Academy of Bergen County becomes The French Academy of Bilingual Culture (elevating our position, while preserving our familiar, FABC monicker).
November 2012 – The French American Academy opens a campus in Jersey City to serve the needs of that community's growing international population.
September 2013 – The French Academy of Bilingual Culture becomes The French American Academy to emphasize bilingualism, but, importantly, our best of both worlds offering, namely, the decorum, intellectual rigor and cultural enhancement of a classical European academy combined with the proficiency of a modern and fully competitive American education curriculum.
September 2016 – FAA opens 6th grade, first step into Middle School, in New Milford campus.
September 2018 – FAA relocates its Morris Plains campus to New Milford
September 2018 – FAA relocates its Middle School from New Milford to Jersey City
The French American Academy is now a group composed of two different entities.
Our New Milford Campus is a not-for-profit organization governed by a board. Fundraising is essential and contributes to the financial resources of the school.
The board is currently composed of four board members:
Jean-Jacques Louis, Chair

Alain Pilet, Finance Committee

Didier Amiel, Marketing Committee

Anne-Sophie Gueguen, Fundraising Committee
Our Jersey City Campus is a private partnership which allows us to raise capital from private investors. This capital has been heavily employed in improving and renovating the building.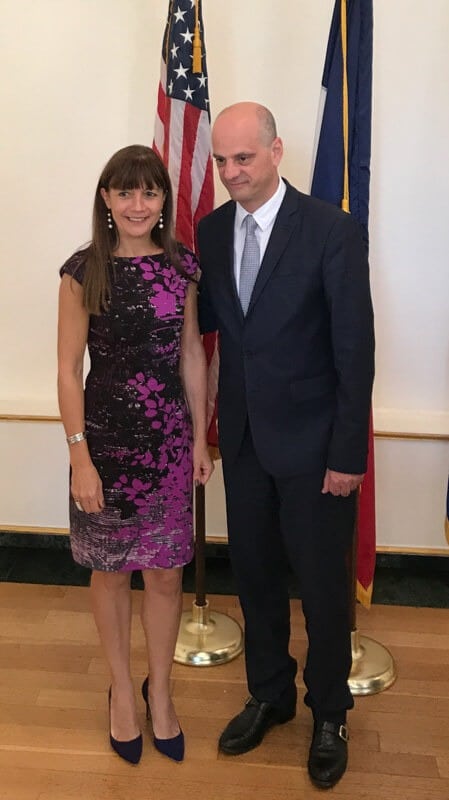 The two schools form the French American Academy group with one mission and one curriculum, led by one person, Anne-Sophie Gueguen.
Through the years, women and men of different professional backgrounds have joined the group, motivated by the same objective – providing a bilingual program of educational excellence within a safe and nurturing environment.