The Greatest Education You Are Ever Going to Give to Your Child
The French American Academy curriculum offers an early-start bilingual education to students from Pre-K2 through 8th grade. Then, students gradually reach mastery in French and English in each subjects.

The French American Academy's bilingual curriculum has a reputation of excellence. As a result, it provides students with a proven path for cognitive development and social growth.

We have built a strong bilingual curriculum which intertwines French and American standards. Consequently, English and French teachers constantly work together, showing explicitly to their students the bridges between the two languages and cultures.
From Pre-K to Middle School
Throughout our three sections,  preschool (which includes Kindergarten), elementary school, and middle school, we have created a well-rounded curriculum where students keep switching between French and English throughout the day.
Read the full page for a deep understanding of our Academic approach or jump right in the section that interests you the most by clicking on the relevant icon. 
In our model, students are starting with 90% of French in the early classes of PK. Then, gradually, we add more hours of English to reach a split of 45% English – 55 % French between the two languages. 

Full immersion in the French language from an early start is very important given that we are based in the United States and are exposed to English language all the time. Moreover, English speaking families will find Immersion a great help in acquiring the first step of  language acquisition : Understanding.

Similarly, French speaking families, will find in Immersion a rich level of vocabulary for future reading skills while English will be approached through social interactions and the academic classes.

At the French American Academy, we like to use the brain flexibility of young children and fire as many synapses as possible. Juggling constantly with two languages develops cognitive abilities. In other words, this brain stimulation is the strength of bilingualism.
OUR STUDENT-CENTERED CURRICULUM
At the French American Academy, we have :
Seasoned teachers who are experts in their fields. 

Small class sizes with high teacher-to-student ratios.

An interactive learning environment that stimulates and cultivates each student's potential for excellence.

An effective balance between the latest teaching techniques and the traditional disciplines found in  classical academy education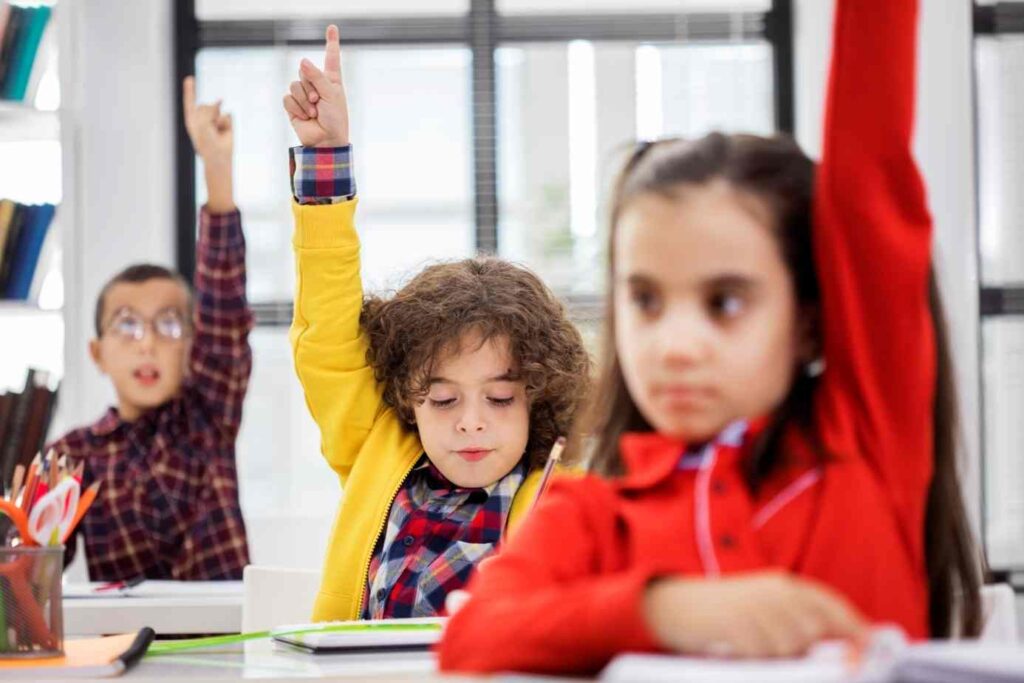 A BLEND OF 2 ACADEMIC SYSTEMS
French and American school Systems are different. However, we manage to blend them into a single well rounded curriculum.
To find your way through the French and American cycles, here is a table: 
The French American Academy supports and enables deeper learning through
The

6 C's

:
THE IMPORTANCE OF SOCIAL-EMOTIONAL LEARNING
While it is crucial to learn how to read, write, and count, we believe students need to learn also social and emotional skills. As a result, they will be more successful academically and socially. Consequently, our students will become :
 Open minded and accepting of other cultures and ideas

Aware that disabilities or economic differences exist

Respectful and polite

Charitable and empathetic

Conscious of their impact on the environment
Team work

Leadership

Self-motivation

Entrepreneurship

Perseverance

Technological proficiency
Analytical

Able to propose and debate a point of view

Public speakers

Problem solvers

Having creative minds and imagination

Thinking outside the box
Working to their potential

Knowing their strengths / weaknesses and building on them

Self-disciplined

Independent, self-reliant, resourceful
To help fulfill our mission, our curriculum uses The Responsive Classroom® approach.  It is a way of teaching that emphasizes social, emotional and academic growth in a strong and safe school community.
For example, the approach develops practical strategies for helping students build academic and social-emotional competencies. It has been described by the Collaborative for Academic, Social, and Emotional Learning (CASEL) as one of the most "well-designed evidence-based social and emotional learning (SEL) programs".
THE 6 PRINCIPLES OF RESPONSIVE CLASSROOM
Social And Emotional Skills Are As Important As Academic Content.
Social and academic learning are fully connected. Therefore, each is equally essential to children's growth.
How we teach Is As Important As What We Teach.
Children learn best when they can make choices about what they are learning. Likewise, it is better when they make their own discoveries through trial and error. Moreover, there should be a balance between teacher-directed and child-initiated experiences. As a consequence, in early education and lower elementary classrooms, teachers often model "guided discoveries" to help children explore the world around them.
Great Cognitive Growth Occurs Through Social Interactions.
While children do learn when they are working alone, they learn the most when they are engaged in meaningful ways with others. For example, peers help to clarify concepts in different ways than teachers do, but often just as effectively.
What we know about our students informs our expectations, reactions, and attitudes about those students.
Because Teachers interact with students on a daily basis, they end up knowing them very well. Another key point is our small class size that also allows the teachers to sense the children with a great accuracy. As a consequence, students feel safe and empowered. Indeed, the more a child feel the school knows them, the more likely he/she will succeed.
How we work together to create a joyful and inclusive environment is as important as our individual competence.
Teachers and staff display the social and academic skills the school teaches. Through their daily interactions, they act as a role model for students. In addition, parents play a key role in the modeling of social skills. 
Partnering With Families is Key to Success
Parent involvement is essential to children's education. The greatest gains are made when educators work with parents as partners. Teachers, Staff and Parents make the Academic Triangle of Cooperation that sets students for success.
Core classroom practices such as Morning Meeting, Interactive Modeling, Guided Discovery, Teachers Language, Energizers, are the heart of the Responsive Classroom approach and fundamental at the French American Academy.
THE IMPORTANCE OF GROWTH MINDSET
Growth Mindset is part of our curriculum's daily approach.
Over 30 years ago, Carol Dweck and her colleagues became interested in students' attitudes about failure. For example, they noticed that some students rebounded while other seemed devastated by even the smallest setbacks.
After studying the behavior of thousands of children, Dr. Dweck coined the terms fixed mindset and growth mindset to describe the underlying beliefs people have about learning and intelligence. When students believe they can get smarter, they understand that effort makes them stronger. Therefore they put in extra time and effort, that eventually leads to higher achievement. 
The French American Academy nurtures, supports and fosters the concept of Project-Based Pedagogy because it helps children become active students and take ownership of their learning.
Benefits of Project Based Pedagogy :
Improves understanding and retention of content

Increases motivation for all students as they  actively  learn by engaging in real-world and personally meaningful projects.

Develops a creative and analytical thinking mindset.
Throughout our three sections,  preschool (which includes Kindergarten), elementary school, and middle school, you will find examples of the FAA projects.
GROWTH AND ACADEMIC ACHIEVEMENT
Our Report Card is standard-based and emphasizes the skills' acquisition through the curricular sequence. For each skill, they show if a student is below, approaching, meeting or exceeding the standards.
In addition, the report card includes comments that offer greater insights into your child's character, strengths and weaknesses. For these reasons, they contribute to celebrate achievements and determine goals for the next period.
The report card will be submitted to the families twice a year, at the end of January and June.  
Although the report card is an important tool between teachers and parents, it can be supported by a meeting with the teacher if needed.
PARENT-TEACHERS CONFERENCES
Parent-Teacher Conferences are organized early November and early April.
At the first conference, parents and teachers get to know each other and discuss how the child is doing after the school's first two months. 

Together, they determine the educational or behavioral goals for the student.

During the second conference, parents and teachers share the year's accomplishments and start to discuss goals for summer or next school year.
In Preschool, you will become familiar with the "cahier de progrès" which helps students take ownership of their learning. With their teachers' help, children can self-assess and identify areas of success, perceive their evolution. Oftentimes, they are proud of their achievements. Teachers' observations are key components and used to gather information in the "cahiers de progrès" as well.
In Middle School, parents will benefit from an additional evaluation tool : the Progress Report. It shows the average of a student's grades in each subject over a marking period. Parents will receive four progress reports in a year. Ultimately, all progress reports will form the official transcript submitted to high schools during the application process.
TESTING IN ELEMENTARY AND MIDDLE SCHOOL
What is MAP?
Measures of Academic Progress (MAP) is a computerized adaptive assessment program in English that provides the school's educators with the information they need to improve teaching and learning and make student-focused, data-driven decisions.
Why is it useful?
What matters for us at the French American Academy is to see students grow and reach their full academic potential. Therefore, choosing MAP testing came as a natural choice. MAP testing measures achievement and growth from 1st to 8th Grade in math, reading and language. This assessment is typically taken twice a year.
French National Evaluation

 
As a private school accredited by the French Government, we are following the recommendations from the Ministry of National Education in terms of standardized tests. Therefore, in September, 1st and 2nd graders are taking a test in Math, Reading and Writing like any other 1st or 2nd graders who live in France.
What is DELF?
The DELF exam assesses four language skills: listening comprehension, reading comprehension, speaking skills, and writing skills.
How is it taken?
3rd, 5th and 8th grade students at the French American Academy take the DELF exam (Diplôme d'études en langue française). Official diplomas are awarded by the French Ministry of Education for proficiency in French as a Foreign Language.
We Provide Bilingual Education
For
International Citizens