Welcome in Elementary School!
World-Class Bilingual Curriculum​
In Elementary School, The French American Academy's world-class, bilingual curriculum gives students a proven path for academic success. First, it includes measurable progress in core skills like reading and writing, math, and science. Second, but equally important, it provides children cognitive development and social-emotional growth through various aspects of the academic life.
The Elementary curriculum develops bridges between the program of the French Ministry of National Education and the US Common Core to ensure students build a strong foundation for future learning. 
Language skills are at the core of the elementary curriculum. In both languages, we want our students to explore and strengthen all areas : reading, writing, speaking, listening.
Reading and Writing
We want our students to become confident readers and writers.
In both French and English class, we choose the Readers and Writers workshop approach. In this case, each session begins with a mini-lesson. Then, teachers work with small groups or with individual students to explicitly teach strategies that address each child's learning needs.
Comparative Grammar
Elementary school's French and English teachers teach together to help students build bridges between the two languages. French and English teachers work together to help students build bridges between the two languages. Through the method MAK developed by Marianne Verbuyt students will take the time to study the structure of each language and compare them. Marianne Verbuyt has included visual tools in her method to make that learning easier, funnier and more efficient. With this well-designed and thoughtful approach for syntax, punctuation, and prosody the students develop a stronger mastery of each language.
Speaking and Listening
Oral language is still really important in the elementary curriculum. So it is fundamental for children to develop their oral language skills to enrich their reading and writing. During their time at the French American Academy, students have different opportunities to improve these competencies.
For instance, here is a quick overview of moments when they practice, but also show all their talent as speakers.
French language workshop to target specific oral language skills.

Bilingual oral presentation starting in 1st grade

Plays performed at the "End of the Year show"

Student council : students are encouraged to convey ideas effectively so they can have an impact on their school community.
Exit Project
By the end of 5th grade, students present a final Exit Project on a topic of their choosing as evidence of all they have learned during the course of their elementary years. First, they are required to complete extensive independent research. Then, they will have to write a formal research paper. Lastly, they will need to prepare for an oral presentation on their subject before an audience of their peers, parents, teachers, and administrators.
Eventually, exiting 5th graders are able to field questions, host discussions, and moderate audience engagement on their topic as the expert in the room. 
The French American Academy works collaboratively with Math and the City, a national center of research so we can provide a strong curriculum in computation, algebra, geometry, and data organization,
En Route to Algebra 1
Mathematics are way more than memorization of facts and techniques. Most importantly, it's about having children engaged in inquiry, proving their thinking, and communicating it to their peers. In order to achieve this, we set up activities and routines in every classroom that build number sense and encourage students to take different paths to solve problems.
Ultimately, our goal is to have our students take Algebra 1 in 8th grade.
Math Success
Our students in grades 3 through 6 compete in Math League competitions in NJ and win prizes!
About Mathleague
Mathleague.org runs the largest network of local and state math competitions at the elementary, middle, and high school levels in the United States and abroad. Students can participate in local contests challenging their mathematical abilities in four rounds of competition including Number Sense, Sprints, Target Problems, and a Team Round. These timed rounds allow students from various local schools to compete with one another for a number of individual, team, and school prizes based on their number of correct answers. Winners can then advance into the State Championships and eventually a National Championship. 
The French American Academy nurtures, supports and fosters Project-Based Pedagogy. This approach helps children become active learners.
Benefits of Project-Based Pedagogy:
Improves understanding and retention of content

Increases motivation for all students who learn by actively engaging in real-world and personally meaningful projects.

Develops a creative and analytical thinking mindset
Examples of Project-Based Pedagogy in Elementary School :
Albertine Prize: a bilingual literary prize for French schools in North America where the children are invited to choose their favorite book from a selection of youth literature. 

Ellis Island and Immigration project: students from 4th and 5th grades are invited to become young historians and do some research on the immigration process during the early XX century. This project ends with a field trip to Ellis Island.

Science Challenge: Classes are involved in the " Défis Scientifiques et Technologiques" suggested by the AEFE. This is an opportunity for children to work on various challenges and experiments.
Starting in 2nd Grade, the French American Academy offers a new component, the Overnight Field Trip.
What Are the Benefits of Educational Trips:
Educational Trips are a lot of fun! But beside this obvious benefit, there are many others that come into play. Among them you can find :
Developing cohesion among the group

Building confidence

Developing a sense of autonomy and responsibility 

Proposing different ways of learning

Living an unforgettable adventure with classmates!
Who is Going? And Where Are Our Students Traveling?
2nd and 3rd graders spend three days and two nights in the Catskills or in Connecticut. Animals and habitats, sustainable development, recycling and compost, and the "Flying Squirrel" are among the highlights of the trip.
4th and 5th graders travel for a complete week. In other words they are out during 5 days and 4 nights. Typically, we alternate between two trips :
A one-week trip to Quebec, in Canada, for the cultural connection

A historical trip to Boston and Plymouth for the social study curriculum.
"This was the best time of my life" was a repeated exclamation from participants at the arrival back in NJ.
NB : Obviously, no field trip took place during Covid but we are confident – and excited!- that field trips will resume in the 2021-2022 school year.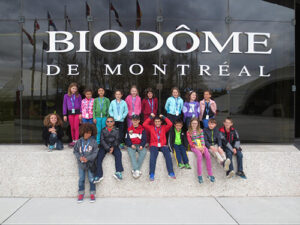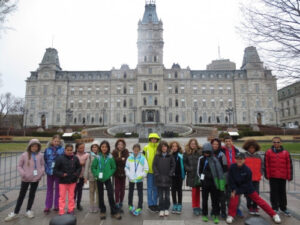 We Provide Bilingual Education
For
International Citizens