Social and Cultural Events
Social, Cultural, Fundraising Events and Bilingual Fair highlight many of a bilingual education's values. Consequently, The French American Academy is very active in promoting these events.
French Week
Jersey City is a patchwork of communities. Among them the French population has grown steadily over the last couple of years thanks in part to the presence of The French American Academy in Jersey City. Indeed our school has drawn a population coming from out of the city, out of state and also from overseas. And we are proud of it, as we are proud of our National Day on July 14th.
In Jersey City, we want this to last a week. That is why in 2017 we have launched The French Week which is our way to promote Social and Cultural Events.
French Flag Raising Ceremony
The French American Academy in coordination with The City of Jersey City rose the French Flag on July 14th at 1pm on the front façade of the City Hall in celebration of Bastille Day in presence of the Consul General of France in New York. Traditionally during French Week, the Mayor of Jersey City issues a Proclamation recognizing the role of the French population and The French American Academy in Jersey City and officially proclaims the day of July 14 as BASTILLE DAY.
Bastille Day
Our beloved summer event "Bastille Day in Jersey City" was held on Wednesday July 14th 2021. The joyful community of Jersey City celebrated our "Joie de Vivre" with vigor and enthusiasm. Not only were we celebrating Bastille Day, but also a "back to normal life" after Covid lockdown.  The French are proud of their heritage and rich history. The French American Academy was proud to launch its 4th edition of Bastille Day in Jersey City.
Bilingual Fair
More parents understand the benefits of bilingual education, and want to find the right opportunities for their child. At the same time more options have become available for educating children, both in the private and public sector.
The French American Academy is a proud partner of the Bilingual Fair. Indeed it is a  premier event for all those interested in the movement that's changing the curriculum of so many schools and the futures of so many kids across the country.
The fair is geared toward parents looking to find out about bilingual education. That is why the best actors of the bilingual education community are under one roof and ready to answer questions. Indeed exhibitors (schools, publishers, educational businesses, camps) all practice and promote bilingual education in a wide variety of languages (French, Spanish, Chinese, Italian, German, Korean, Japanese, Arabic, Hebrew, and more).
If you are the parent of a young child and are interested in learning the benefits of bilingualism on your child, then jump to our page to discover bilingualism and understand why and how students of The French American Academy become bilingual.
Annual fundraising events
The French American Academy organizes fund raising for its campus of Englewood.
Since the founding of the school, fundraising activities have played a critical part in funding major educational and infrastructure projects for the direct benefits of the students of The French American Academy of Englewood.
Every year or so, The French American Academy gathers the whole community for a sophisticated Annual Gala or other high-end events (Master Chef in 2020, Honoree Dinner in 2018, Cruise on Hudson River in 2017).
Hence venues are carefully chosen to highlight the prestige of the event. Friends and donors enjoy this elegant evening while networking and participate in our school life.
Funds raised through events and auctions support three mains areas:
Academic environment (technology, science, athletic equipment, etc.)
Professional development for faculty
Scholarships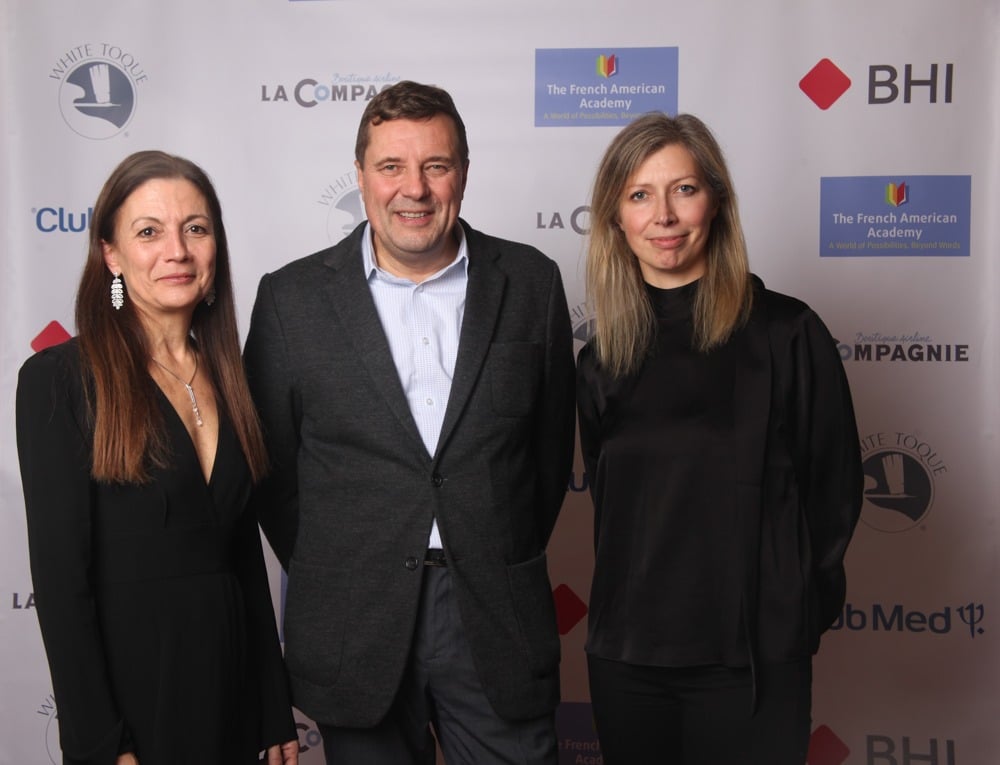 PTO Events
The Parent Teacher Organizations (PTO) mission is to enrich the learning experiences for our teachers and students. Also the PTOs supports creative thinking, diverse education, and cross-cultural exchange. Lastly, they embrace innovation that fosters the love of learning, with the ultimate goal of developing collaborative, compassionate, contributing world citizens.
Taxewise, It is worth to note that, on one hand, PTO of Jersey City is tax-exempt 501(C)3 and, as a result, can organise fundraising events with the benefit of tax exemption. On another hand, PTO of Englewood is part of the school entity and benefits from the school tax exemption.
PTO also proposes many social events like Annual Gala, Welcoming Picnic, Wine and Cheese, Fall Festival, End-of-the-Year Carnival where families get to know each other.
Also PTOs work closely with the school administration and the faculty to identify needs, launch events and motivate their members to help where it is needed (Fall Festival, Book Fair, International Potluck, Thanksgiving Lunch, Yearbook, Bake sale / Galette des rois / Crepes, Box tops).
Finally we are very proud of our PTOs who have proved time and again the importance of reaching out and helping each other during Covid 19.
Contact addresses:
PTO Englewood  at pto@faacademyorg.kinsta.cloud
PTO Jersey City at ptojc@faacademyorg.kinsta.cloud