Bilingualism in the classrooms
At the French American Academy, we believe in the transformative powers of a bilingual education.
Exposing a child to more than one language at a young age is crucial. This early exposure takes full advantage of a child's innate language-learning abilities and natural curiosity about the world. Not only it gives them fantastic language skills, but It also provides them with an understanding of cultural differences and similarities of the two countries.
Being Bilingual
At the French American Academy, children are taught to be bilingual with varying emphasis on French and English.
In Preschool, children receive four hours of English every week. Then, as the children get older the number of hours taught in English gradually increases to 6.5 hours in first grade and 10 hours in 4th grade. By the time children reach Middle School, 55% of teaching is done in French and 45% in English.
The ultimate goal is fluency in both languages.
And, it works.
French and American schools systems are different. Bilingualism requires a complex curriculum linking the two languages. It is not two curricula taught parallel to one another next to each other.  Nor is it an American curriculum translated into French.
Bilingual education is a unique and dynamic intersecting of the French and English curricula that brings both efficacy and efficiency to the students' learning.
This coming together of two programs allows our teachers to collaborate on lessons where concepts and skills overlap. For example, lessons around the use of prefixes and suffixes are often taught bilingually as the rules are the same in both English and French.
Moreover, a bilingual education provides children with opportunities to make connections and deepen their understanding of the structure of language.
Bilingual Science
In science, students will focus on content and scientific process. Science concepts are taught in both languages and the students will always have access to vocabulary in French and English but they can express themselves in the language of their choice.
Example of a grammar lesson
In this grammar lesson, for example, early elementary age children are learning to know when to use "est" or "et" in French.  Instead of using the usual tips to determine which "est" or "et" to choose from, students will use their connections to English to find out the right answer.
As they begin to construct sentences in each of the two languages, these early connections have a profound influence on our children's capacity to process new information and extend their understandings.
Collaborative teams and partnerships are crucial to the success of a bilingual education. Our teachers dedicate themselves to working together to plan, prepare, and often, co-teach lessons.
Other examples of a bilingual education
In 5th grade social studies, children study key events and figures from the American Revolution in English and the French Revolution in French.  The power of these studies lies in the shared teaching of these important time periods.  Children begin to make links and understand the bigger ideas about why revolutions occur and how it affects a nation.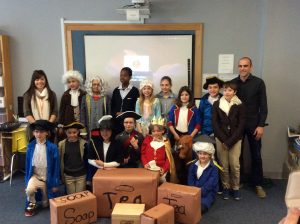 Bilingual projects are inspirational and motivating for both students and parents who can enjoy the achievements of their children.