Social and Emotional Learning
At the French American Academy, we believe that in order to be successful in and out of school, students need to learn not only academic but also social and emotional competencies.
We want our students to be global citizens
open minded and accepting (cultures, ethnicities, abilities, ideas, religions)
socially aware (disabilities, economic differences)
respectful and polite
charitable and empathetic
conscious of their impact on the environment
We expect them to demonstrate
team work
leadership
self-motivation
entrepreneurship
perseverance
technological proficiency
We want our students to be critical thinkers
analytical
able to propose and debate a point of view
public speakers
problem solvers
having creative minds and imagination
thinking outside the box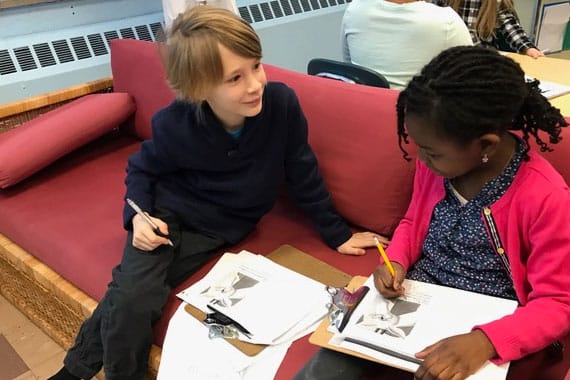 We want our students to develop self awareness
having a strong and healthy work ethic
working to their potential
knowing their strengths/weaknesses and building on them
self-disciplined
goal oriented
independent/self-reliant/resourceful
Responsive Classroom Approach
01 – Teaching social and emotional skills is as important as teaching academic content.
Social and academic learning are inextricably connected, and each is equally important. The balanced integration of the two is essential to children's growth.
02- How we teach is as important as what we teach.
Children learn best when they have the opportunity to make choices about what they're learning and to make their own discoveries through trial and error. Ideally, there should be a balance between teacher-directed and child-initiated experiences. In early education and lower elementary classrooms, teachers often model "guided discoveries" to aid children in exploring the world around them.
03 – Great cognitive growth occurs through social interaction.
While children certainly do learn when they are working alone – reading a book, taking a test, completing a worksheet – children learn the most when they are engaged in meaningful ways with others. Peers often help in clarifying concepts in different ways than teachers do, but often just as effectively.
04 – What we know and believe about our students—individually, culturally, developmentally—informs our expectations, reactions, and attitudes about those students.
Teachers come to know children individually, culturally, and developmentally by taking the time to observe and interact with students and by understanding the stages of child development. Our small class size also allows the teachers to know very well the children. The more a child feel known at school, the more likely it is that he/she will succeed.
05 – How we work together as adults to create a safe, joyful, and inclusive school environment is as important as our individual contribution or competence.
Teachers and administrators model the social and academic skills they wish to teach their children. These skills are be lived daily in educators' interactions with each other, with children, and with parents. Children are always watching. I would include parents in the modeling of social skills. As parents, you are often the final arbiter of social behavior for your children.
06 – Partnering with families—knowing them and valuing their contributions—is as important as knowing the children we teach.
Parent involvement is essential to children's education. The greatest gains are made when educators work with parents as partners. Remember, this is a corner of our team triangle!
To help fulfill our mission, we use The Responsive Classroom approach which is a way of teaching that emphasizes social, emotional, and academic growth in a strong and safe school community.
The approach consists of practical strategies for helping students build academic and social-emotional competencies day in and day out. It has been described by the Collaborative for Academic, Social, and Emotional Learning (CASEL) as one of the most "well-designed evidence-based social and emotional learning (SEL) programs".
Core classroom practices such as Morning Meeting, Interactive Modeling, Guided Discovery, Teachers Language, Energizers, are the heart of the Responsive Classroom approach and fundamental at the French American Academy.
Visit our classrooms to see them in action!