Preschool and Kindergarten
Welcome in Preschool / Kindergarten!
Preschool | Maternelle at the FAA
In an increasingly interconnected world, we believe that bilingualism sets children on the path to becoming successful open-minded global citizens ready to take on tomorrow's challenges. That is why our language immersion program provides children with the early start to becoming truly bilingual
As a matter of fact, we are on a mission to make children fall in love with learning. Through the dual lenses of French and English, our young students assert their personality, discover and explore while playing. In addition, our inquiry-based approach allows them to become involved in what they learn. As a result, our program exposes them to an array of hands-on experiences and social interactions that set the stage for academic success.
What we have seen over the years, is that when education is instilled with a sense of fun and in a nurturing environment, children become great learners! Therefore, we are trying to enforce this spirit in our everyday teaching. Continue scrolling down to discover how we do it.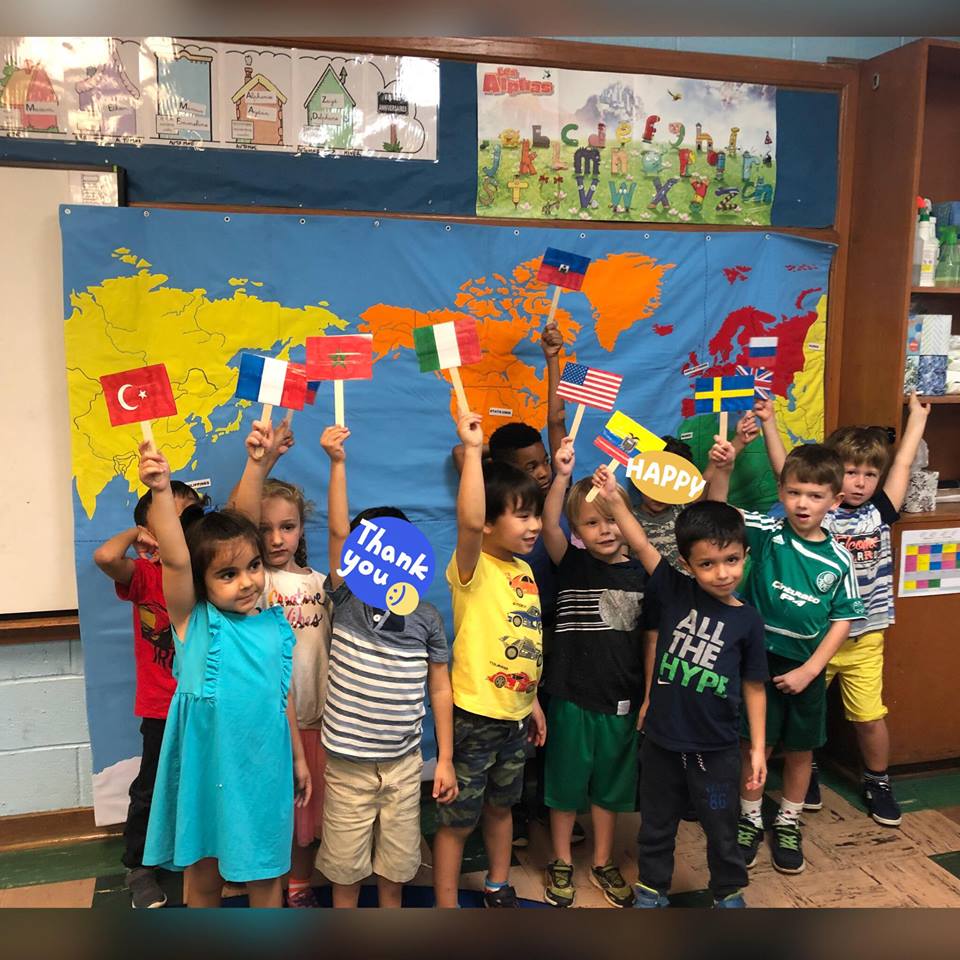 Why choose a Preschool with a French Program? 
The French Ministry of Education makes Preschool an integral part of the educational system. Indeed,  Preschool and Kindergarten lay the academic foundation as early as two years-old. Pre-Kindergarten and Kindergarten are grouped into what is called "Cycle 1" around a cohesive and unified curriculum. The rich content of the curriculum taught in Cycle 1 paves the way for deeper learning in elementary years.
Pre-kindergarten 
Early learning is an essential step in the students' journey to guarantee academic excellence and success. Thus, in PreK2, PreK3, and PreK4, children learn to become autonomous and develop an early sense of self as an individual. Supported by their teachers, they interact and live together through active engagement in a positive environment. Moreover, they get a healthy start and develop autonomy, strengthen oral language and discover writing and number concepts. Likewise, they begin to experiment in science, develop physically through gross motor activities and create artistic projects.
Kindergarten
Kindergarten is an exciting transition as students blend what they have learned in Preschool with more structured academic activities and routines. As a result, Kindergarten plays a pivotal role between early childhood and elementary school. This is the grade where students begin the formal reading program in English and become independent readers and problem solvers.   
Curriculum
All aspects of the curriculum are enhanced through multi-sensorial activities that stimulate curiosity, promote critical thinking, and develop social skills. Another key point to mention is that these skills are part of the 6Cs that we enforce throughout the entire school's curriculum.
The Preschool bilingual curriculum is organized into five interrelated domains:
1. Social and Emotional Development / Becoming a Student: 
Inspired by the Responsive Classroom Approach, this domain is one of our core educational program's keystone. To put if differently, the Responsive Classroom Approach ensures success in all areas of the curriculum. For example, children learn to strengthen their relationships with others and develop self-awareness. Also, they adapt to classroom rules and learn to self-regulate and collaborate. Ultimately, they become more autonomous and accountable by taking an active role in the life of the class. 
2. English and French Language Arts:
In all areas of the curriculum, children acquire a growing receptive and expressive new vocabulary in both languages. For example, they practice oral skills via meaningful communication during targeted language activities and spontaneous conversation. Then, overtime, they improve syntax structure, understand and follow spoken directions.
The more they practice, the more our little students demonstrate an understanding of the organization of print, syllables, and sounds (phonemes). Moreover, they display reading behaviors. Eventually, at the end of Kindergarten, children read independently in English and are ready to begin the first grade's formal French reading program. 
3. Cognition and Knowledge of the World (Science, Mathematics and Social Studies)
In mathematics, children learn about numbers and their uses. They strongly establish the concept of quantity, understand organized patterns, identify and describe shapes. Similarly, following scientific thinking, children make predictions, manipulate, observe and describe the characteristics of living things, objects and matter. They also show understanding by explaining "how" and "why." 
Equally important, children develop an awareness of time and space. They learn about their community and their own culture. They discover other cultures, people, and places. 
4. The Arts
Children express themselves and represent what they know, think, believe, and feel through visual art and creative movement. They engage in musical activities and participate in dramatic play.
5. Gross and Fine Motor development
During physical fitness activities, children improve body awareness, spatial boundaries, coordination, and control.  They also practice the hand-eye coordination and dexterity needed to manipulate small objects during fine motor skills activities. 
How do students learn French or English?
Language acquisition and development is at the heart of the preschool program. We know that, for many students, the French American Academy is the first exposure to a second language. Therefore our native speaker French and American teachers apply expert techniques to make things easy. For instance, they use visual support, color-coded symbols, songs, and movement to target vocabulary and language structures in all subjects. As a result, children progressively acquire an understanding of the language before easing into expressing themselves spontaneously. 
French-speaking children who are moving for the first time to the USA will learn the English language through formal instruction and play. English remains the social language of our students at recess and lunch time. In contrast, the French immersion will help them develop a richer vocabulary to become strong readers, while the English class and American environment will bring them smoothly and efficiently towards bilingualism.
Projects
Project-based pedagogy allows children to acquire a deeper knowledge through active exploration. This is where children participate in bilingual projects co-taught by their French and English teachers. Project highlights include:
The Prix Albertine Jeunesse

where children study the same book from children literature in French and English. Children contrast and compare the story and merge the two languages.

The Week of Taste (La Semaine du Goût)

is an opportunity to learn about nutrition, use our taste buds, and open our minds to culinary traditions around the world.

The Week of Cultural Heritage

opens children's minds to the rich diversity represented in the school. 
During Parents Breakfast, parents are invited in the classrooms to witness first-hand bilingual projects children have been working on. Additionally, they attend presentations and participate in activities the children have prepared for them. 
Field trips
We want to give our students real world experience! We carefully plan field trips to enhance the curriculum and enrich overall learning. From taking a trip to the local firehouse or visiting the Montclair Art Museum, children experience different learning environments outside the classroom.
NB : Obviously, no field trip took place during Covid but we are confident – and excited!- that field trips will resume in the 2021-2022 school year. 
We Provide Bilingual Education
For
International Citizens