In Elementary School, The French American Academy's world-class, bilingual curriculum provides students a proven path for cognitive development, social growth and academic success, including measurable progress in core skills like reading and writing, math and science.
In Elementary School, our student-centered program features :
Deeply dedicated, experienced faculty highly motivated and carefully selected
Small class sizes with high teacher to student ratios
An interactive learning environment that stimulates and cultivates each student's potential for excellence.
An effective balance between the latest learning research and teaching techniques and the traditional disciplines found in a challenging, classical academy education.
FAA is a private academy supporting and enabling the four 21st century skills that the students need to be successful:
Communication
Collaboration
Creativity
Critical Thinking
The Curriculum
At the French American Academy, we expect our 5th grade students to meet or exceed the expectations of the French Ministry of Education Program and the New Jersey Student Learning Standards.
In Language Arts, we expect our students to possess the skills and knowledge to speak, read, and write in French and in English fluently, demonstrating the quality of education they have acquired. Students will have studied a variety of authors of French and English literature and will be able to discuss and analyze their work with concrete comprehension. Graduates will write in cursive in both languages.
We expect our students to write narrative essays as well as, persuasive, informational texts, poetry, letters, general and historical fictions and non-fiction texts.
We expect our students to read, write, and research given topics, making oral and written reports as well as presenting research projects.

In addition to the French curriculum, the students will take the DELF A1 in 3rd grade and the DELF A2 in 4th grade.  The DELF is an official diploma issued by the French Education Ministry validating the language skills according to the CEFRL – The Common European Framework of Reference for Languages. At each level, a series of examinations evaluates the four communication skills:
Listening comprehension,

Reading comprehension

Speaking skills

Writing skill
French universities can accept foreign students with a B2 level.
In Math, we expect our students to solve academic and general life problems. Graduates will apply their problem solving, logical thinking, and critical thinking skills to master curriculum in computation, algebra, geometry, and data organization, using both the metric and American systems.
Our students in grades 3 through 6 compete in Math League competitions in NJ. With four rounds  – number sense, sprint, target, and team rounds – it
 is an incredible experience to meet and compete alongside children from various independent schools.
Two teams competed at Primoris Academy.
Daria placed in the top ten in 6th grade, and Christopher, Hector, Rayana and Zoe won first place in the Division 5 Sweepstakes! Woohoo!
In Science, we expect our students to use the scientific method to explore and research Life Science, Physical Science, and Earth Science. They will display and present their research through "Defi Science" and "Science Fair". Thanks to our recycling programs, we expect our students to share awareness of the environment and conservation.
In Social Studies, we expect our students to be knowledgeable in French and English civilizations, in world geography, history government, current events, and ancient and modern civilizations. Through the bilingual curriculum, they will be able to make cultural and historical connections between continents.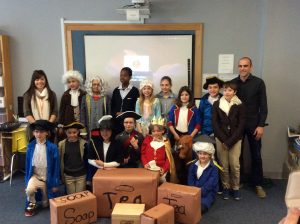 In Art and Music, we expect our students to possess knowledge about many artists and their work, and to be able to compare differences and similarities. We encourage self-expression and expect our students to perform and exhibit their artistic skills in a variety of presentations.
Health : We expect our students to maintain healthy lifestyle habits through awareness of balanced nutrition, and physical activities. . In any and all athletic pursuits, we expect them to show sportsmanship.
Students will be able to apply media skills and technology in all subject areas.
French American Academy Elementary Curriculum's benefits
01 – Students will be lifelong learners able to handle new challenges confidently.
02 – Ability to think both critically and in an innovative fashion.
03 – Expand their vision of "community" from their neighborhood to the Global Community and be aware of the needs of that Global Community.
04 – Ability to work collaboratively.
05 – Transition smoothly to Middle School, using their strong academic foundation to become confident leaders.
06 – Become a role models and have a positive influence on their peers.
07 – Multilingualism and global outlook will better prepare them for future success.
What Qualities and Characteristics do we want the Students to Demonstrate?
01 – We want our students to be global citizens
open minded and accepting (cultures, ethnicities, abilities, ideas, religions)
socially aware (disabilities, economic differences)
respectful and polite
charitable
conscious of their impact on the environment
02 – We expect them to demonstrate
team work
leadership
self-motivation
entrepreneurship
perseverance
technological proficiency
03 – We want our students to be critical thinkers
analytical
able to propose and debate a point of view
public speakers
problem solvers
having creative minds and imagination
thinking outside the box
04 – We want our students to develop self awareness
having a strong and healthy work ethic
working to their potential
knowing their strengths/weaknesses and building on them
self-disciplined
goal oriented
independent/self-reliant/resourceful
05 – We want our students to maintain health and wellness
to be physically fit
to practice sportsmanship
to demonstrate effort
to be nutritionally informed
to be aware of their emotions and feelings
to express themselves artistically